S7 - SINUMERIK
This mode allows the usage of the S7 driver to interact with devices supporting the SINUMERIK standard.
Restrictions
Following restrictions must be considered when using the "S7 - SINUMERIK" mode:
Redundant device/connection is not supported
Alarms are not supported
Symbolic addresses are not supported
Test Hardware
The S7- SINUMERIK interface implementation has been officially tested with following hardware and software:
SINUMERIK 840D SL
NC Operate Software 4.8 SP4 HF1
NC Operate Software 4.91.00.00
In case of different hard- or software configuration, deviations from the tested functionallity cannot be completly excluded.
Device Settings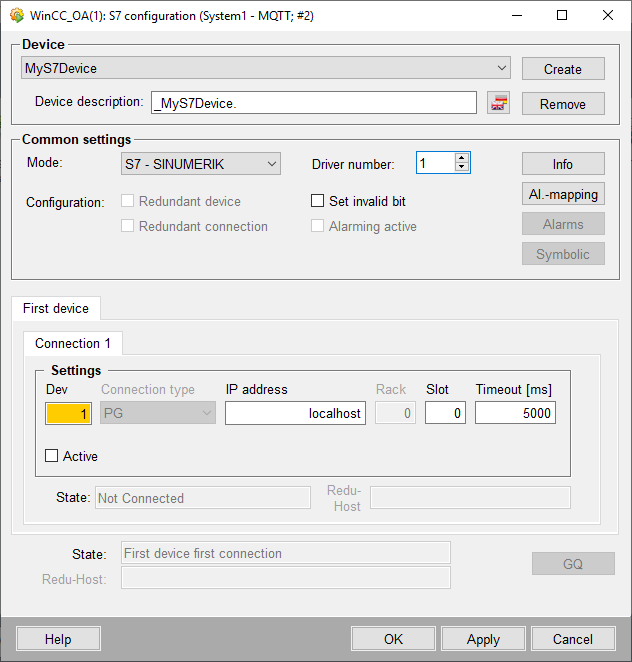 Dev
Specifies the number of the device for ACCON-AGLink. The value can be between 1 and 512. However, per driver a maximum number of 256 devices can be used. You have to use a second driver and the deviceOffset config entry for bigger numbers.
For a new connection the next valid value (the first entry in the data point _S7_Config where the IP address is not set) is calculated automatically and inserted into the field.
Connection type
The connection type cannot be changed when using the "S7 - SINUMERIK" mode.
IP address
The IP address (or host name) of the CPU. To use a specific port, the port number can be stated with the IP address, e.g. "192.168.1.13:120". The default port for the S7 driver is 102.
Rack
The Rack cannot be changed when using the "S7 - SINUMERIK" mode.
Slot
The slot number of the CPU unit of the PLC. This has to be considered for different PLC assemblies, e.g. S7-300 and S7-400. Please note that WinCC OA stores the slot information as decimal values whereas Step7 and the SIMATIC manager use hexadecimal values.
Timeout [ms]
Defines the timespan for ACCON-AGLink in which all connections must be cleared. If the timespan is exceeded the following error message is displayed:
Asynch. ExitAdapter does not complete for <Connection Name> device <Device Index>
Active
This check box is used in order to set the connection to the peripheral device active or inactive. You can deactivate a connection that is already created and configured. The connection data point is not deleted and can be reactivated at any time. The status display changes from "Connected" to "Not Active"; if a connection is deactivated.
State
Shows the status of the connection to the periphery. The following states are possible:
"Not Connected" (Connection to the peripheral device lost e.g. PLC was disconnected from the network)
"Connected" (Connected with the peripheral device)
"General Query" (General query runs)
"Not Active" (Device with the associated check box set to inactive).
GQ
A GQ (General Query) cannot be performed when using the "S7 - SINUMERIK" mode.
readOpState
In case you are seeing the following error message within the LogViewer, the value for [s7] ReadOpState must be set to 0.
WCCOAs7 (1), 2020.10.15 10:56:56.495, SYS, WARNING, 59/s7, PLC 'sinum1' changed to state UNKNOWN (device 1).